After Kathy Zaltas wrote her mother's story of surviving Auschwitz in the Safekeeping Stories of the Holocaust Workshop, she wanted to do something. Inspired by the Safekeeping Stories sunflower, she used her talent as a jeweler at Zaltas Gallery to create Hope Sunflower jewelry. 
Kathy donates a portion of every sale to the Holocaust & Human Rights Education Center to support Holocaust education. 
The Hope Sunflower Origin Story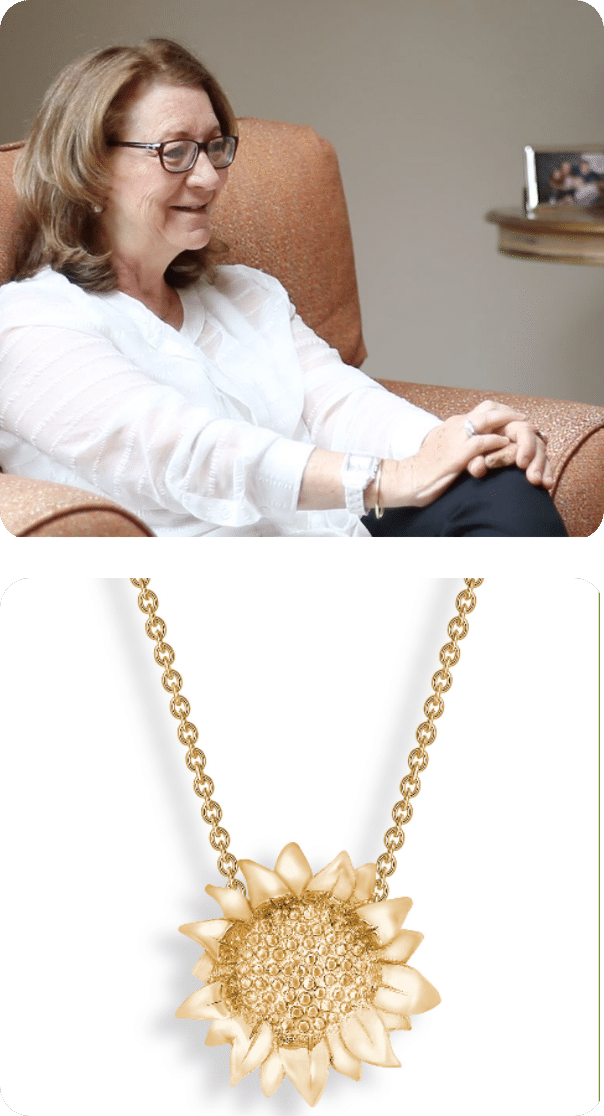 I have been touched by a special journey — the dignity, honor, and pride of telling my parents' painful stories during the Holocaust.
Through the Safekeeping Stories of the Holocaust Workshop, sponsored by the HHREC and led with inspiration by Jill Sarkozi, I have been able to dig deep into my family's history and learned to craft their stories of darkness and courage.
I tell their stories as a legacy for my children and grandchildren and all future generations. In many ways, the "telling" has been healing and has afforded me the opportunity to teach the lessons of the Holocaust and human rights education to many generations, so that they may live in light rather than darkness.
The sunflower is the symbol of Safekeeping Stories and has inspired me. She grows and follows the light. From her dark center, seeds emerge, numerous and nourishing, and create NEW sunflowers in the spring.
It is my hope that, like the seeds of the sunflower, the stories of the Holocaust will spread all of the world, healing, teaching the importance of acceptance, understanding, and the value of human rights. These I call the Seeds of HOPE!
– Kathy Grosz-Zaltas
One-Page Story Starter Checklist
Let Us Make This Easy For You!
Subscribe and receive our One-Page Story Starter Checklist revealing the
surprisingly simple but necessary steps to begin your family story.
You'll also receive our newsletter to guide your next steps